Gain a competitive edge in Francophone markets, enhance your business and travel experience in French-speaking countries, improve communication with clients and colleagues, and foster team building within your company.
FRENCH UP YOUR TEAM!
Six reasons to choose Alliance Française de Singapour!
COMPETITIVE PRICING
Prices are scaled to class size and organizational needs — the more employees enrolled, the better the value.
CUSTOMISED CLASSES
Tailor-made tuition according to your objectives, schedule and needs. We help you design your course from basic to professional proficiency level. Our sample classes include Business French, French for diplomacy, international relations hospitality and more.
CULTURAL TRAINING AND WORKSHOPS
Ideal for team building purposes, thematic workshops can also be tailored to your business needs: initiation to the French language, intercultural workshop, wine tasting…
RESOURCES / MEMBERSHIP
Corporate students receive AF Membership, giving access to a wide cultural programming, social events and Singapore's largest private French language library.

EXPERTISE AND INNOVATION
Our highly-qualified team of French teachers uses the latest multimedia tools to enhance the learning process.
OFFICIAL EXAMINATION CENTRE
We are the only accredited examination centre in Singapore for French language diplomas and tests issued by the French Ministry of Education and the French Chamber of Commerce.
In Alliance Française premises or online:
- 1 student: $118 per hour for up to 6 hrs, $108 per hour for more than 7hrs
- 2 to 6 students: $180 per hour for up to 6 hrs, $160 per hour for more than 7hrs
At your office:
- 1 student: $198 per hour for up to 6 hrs, $180 per hour for more than 7hrs
- 2 to 6 students: $250 per hour for up to 6 hrs, $220 per hour for more than 7hrs

Prices may vary according to the programme implemented.
All fees include GST.

PRIVILEGES
Companies registered at the French Chamber of Commerce enjoy a 10% discount on customised courses at AF, 15% discount on customised offsite courses and a 10% welcome discount for the first registration of employees sponsored in our general group classes!

SOME OF OUR VALUED CUSTOMERS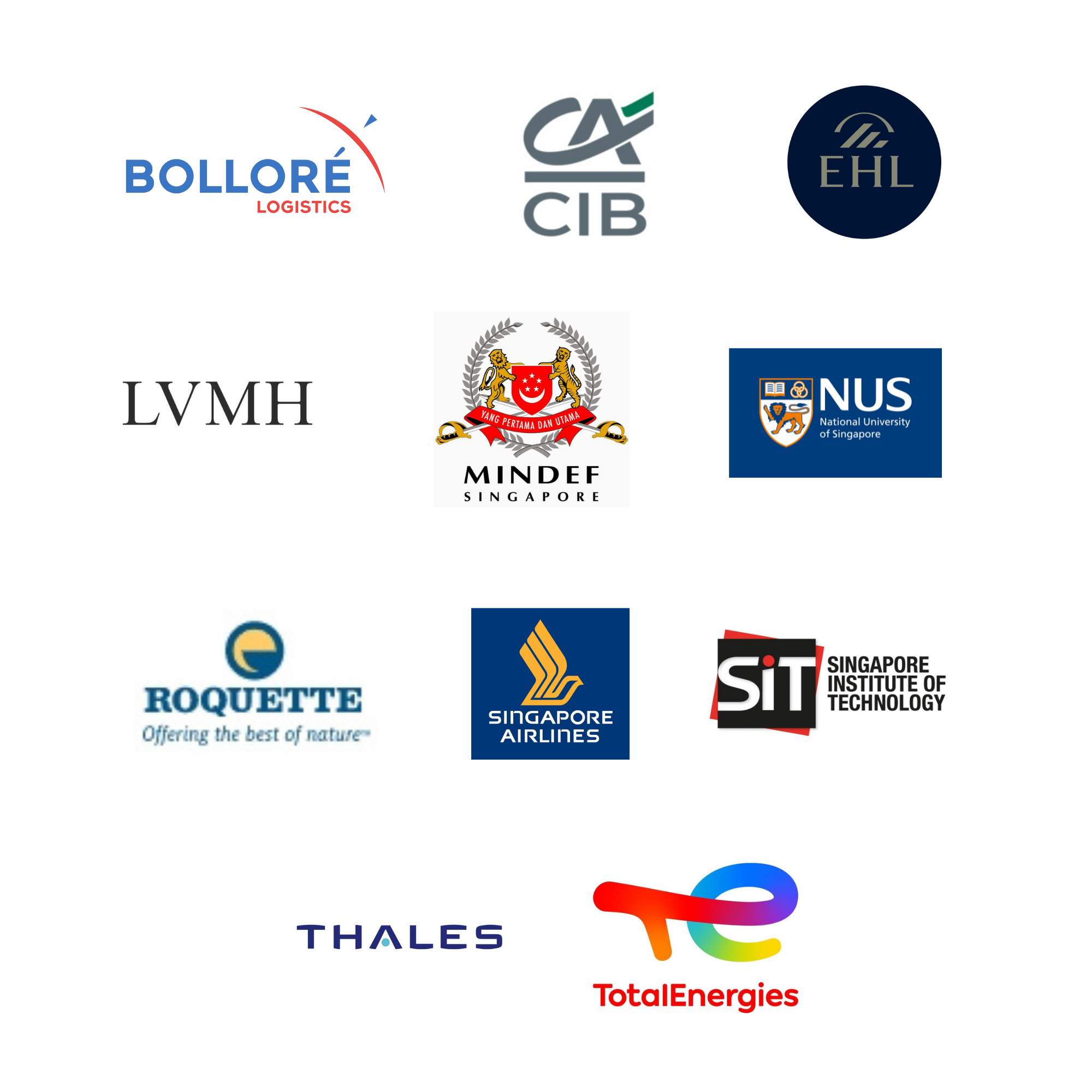 CONTACT US
For further information, send an email to Emeline Colson (academic@alliancefrancaise.org.sg) or call 6817 8170.
Alliance Française de Singapour is registered as a Private Education Institution under the provisions and regulations of the Private Education Act 2009 (Chapter 247A) with the Committee for Private Education of Singapore from 29 September 2019 to 28 September 2023.UEN: S61SS0085C